Recent History of BBCLT Wells, Pumps & Other Water Stuff…
(extracted from emails, meeting notes, etc.)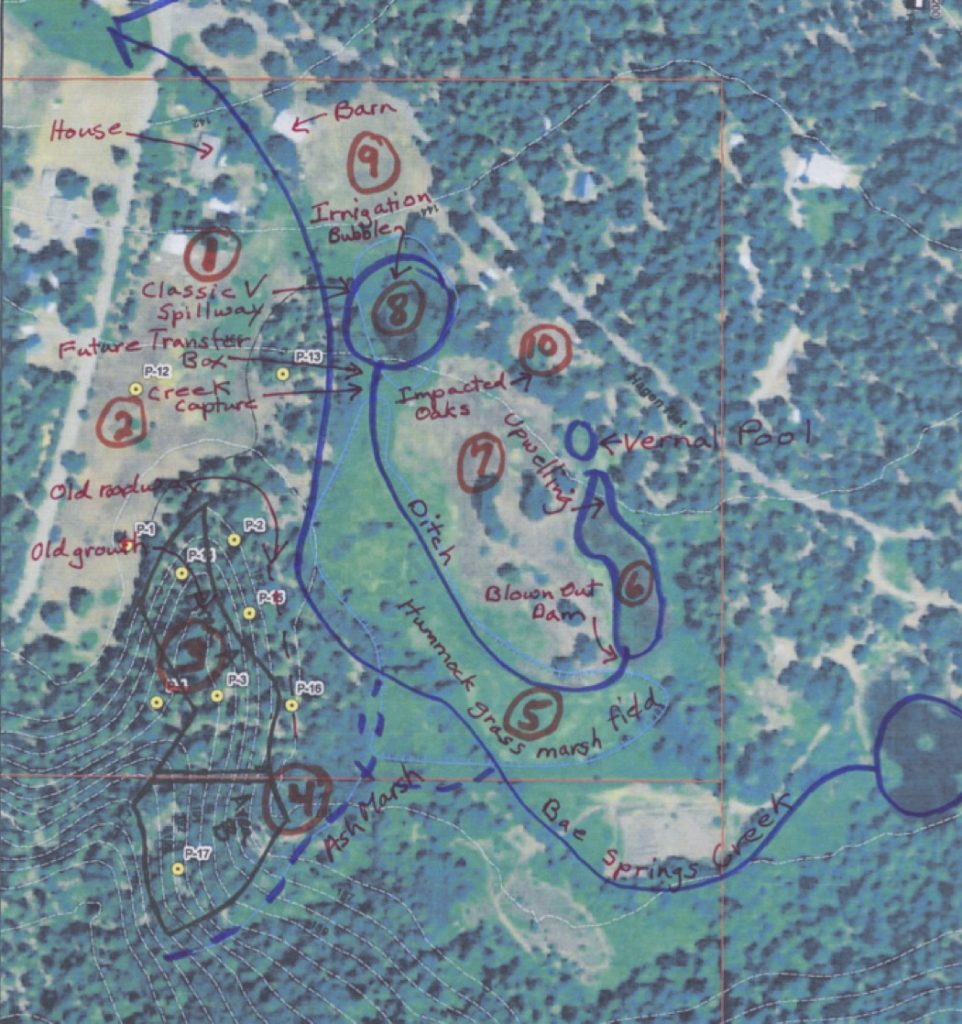 Main Well (used for Drinking and Irrigation):
July 19, 2019 Puck wrote:
Here's the update from J&J and Mikey the electrician:
1. There's a lot of animal activity in the pump house. There was a wasp nest in the breaker box. I got some spray for it, and it's gone now. There are hella frogs getting into the pressure box. Mikey has a part to install to keep them out. Plus the trash inside from the ringtail – it needs some cleaning up like woah.
2. J&J checked out our whole system except for going into the well itself. They did not do the flow test at this time. They found that our pressure gauge was broken, and put a new one on. They evaluated and fixed little things they could see. But their main conclusion is that the problem is likely electrical.
3. Electrical: There's a 110 amp breaker that needs to be replaced. Mikey was going to check existing breaker stashes for one. If he can't find one, we'll pick it up on Monday. Mikey evaluated the control box, and said it is in good working order and shouldn't need replacing. Mikey will be doing whatever necessary repairs to the pump house electric. If there is an issue beyond his abilities, that likely means we need to call back J&J, as the issue then is the pump, and any solar or pump upgrades would have to happen immediately.
Already spent:
$115 – first J&J visit (Ck #1073)
$291.48 – J&J second visit, plus new pressure gauge (Ck #1076)
$75.00 – Mikey for this visit, and two other hours he spent with David (cash)
$5.57 – Wasp Spray (cash)
July 29, 2019 Doug wrote:
Steven and I went by the well last week. After looking at it with Mike, it was determined that (electrician) Mike needed to finish cleaning up all the wiring inside the well house. We discussed with (our) Mike about removing all the old insulation and garbage from inside it and replacing it with new insulation and spray foam where needed. Also discussed was weeding around the area, re-installing the roof over the pump itself, painting, and removing the barbed wire fence around it for safety concerns. I can go over it with you if needed.
August 5, 2019: Fill dirt delivered (by Jerry Kakuk) from BBHSP to BBCLT pump house (area that flooded in wet months), making pump house easier to access year-round.
August 6, 2019 From Financial Report:
07/19/19 Labor: Mike A. – electrical work -$75.00 Cash
07/22/19 Home Depot (Circuit breaker for pump) -$45.42 Debit
07/22/19 Labor and Gas: Mike A. – electrical run -$50.00 Cash
07/22/19 Platt Electric: Supplies -$931.20 Debit
August 8, 2019 Property Progress Summary (from Puck)
Irrigation Systems:
-Mike created some maps outlining potential new irrigation plans: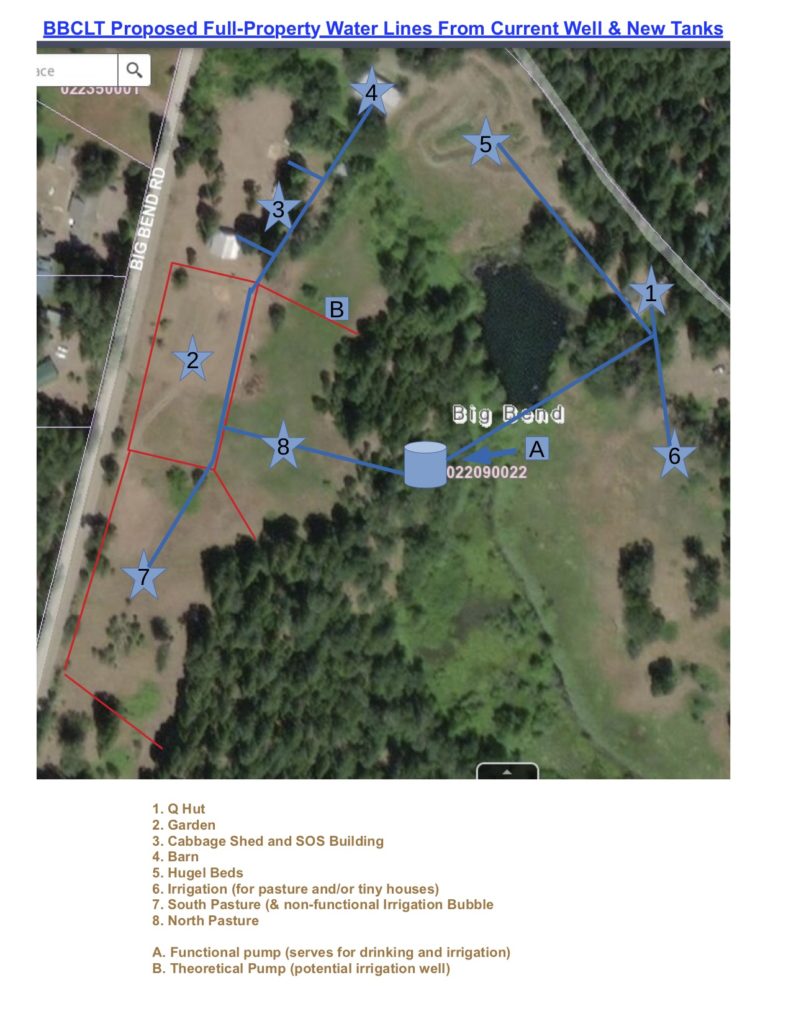 -Kelly, a solar/farming expert friend of the Orwigs, toured the property with us. He suggested we explore using surface water to help irrigate the land. One place this would be most useful is at the Hugels, since there's such a large pond right next to it.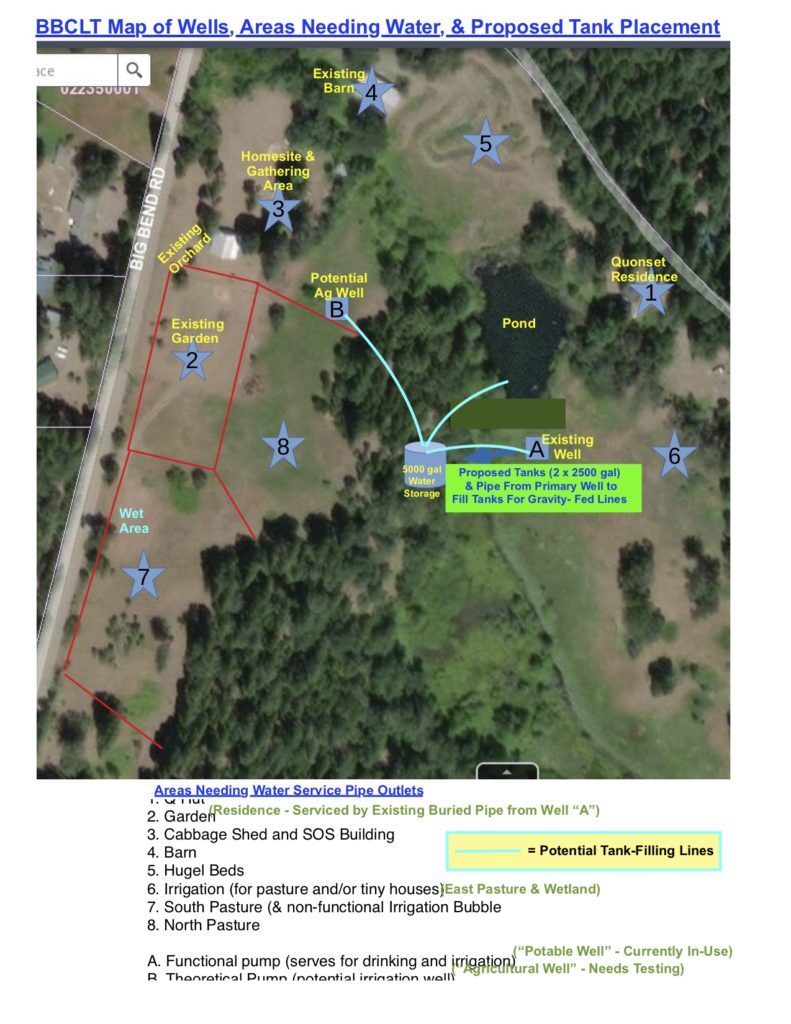 August 8, 2019 Proposal for Property Development (from Puck)
August/September 2019
Irrigation: All fall under Rittenhouse Grant expenses
1. Purchase and install a 2,500 gallon tank at the location shown (pricing on-going)
2. Update existing irrigation in garden. Install working sink. Install in-line feeding system for existing crop. (new irrigation parts $2,000-$3,000, sinks can be found around land/donated)
3. Install water access in hugels for fruit trees. Investigate using pumps and surface water.
4. Install working sink by main area (cabbage, library)
~~~~~~~~~~~~~~~~~~~~~~~~~~~~~~~~
September 2019: BoD focused on testing and evaluating the second well ("Ag Well" or "Agricultural Well"), with help from Kelly…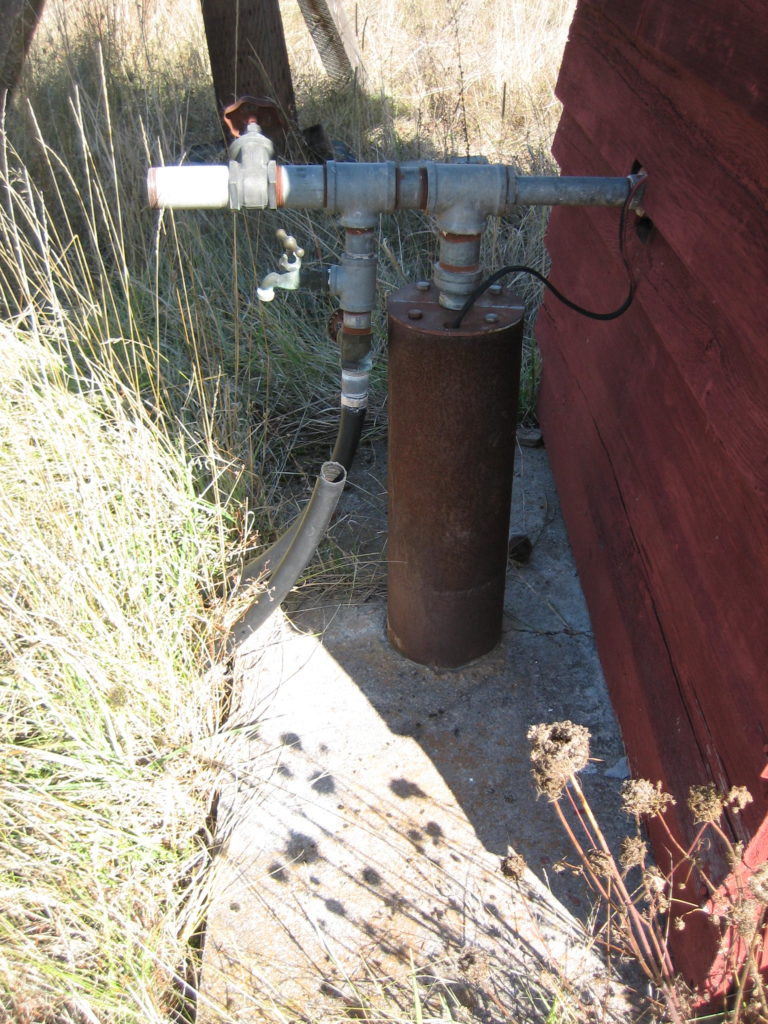 September 19, 2019 (from Bod Meeting Minutes):
Irrigation Using Ag Well?
1. Roberta did follow up on irrigation pricing. The only place that carries tanks now is JW Wood (and Amigos?). Measuring the exact footage needed for irrigation is needed. She also researched the different pricing for different kinds of irrigation sold at multiple businesses (2 inch poly line into the tank, 1 inch poly line out, shrinking down to 3⁄4"). 
-Using (above-ground) water line can allow us to move it (out of the way) if we need to till, but would need to be emptied for the winter (to prevent valves from freezing and cracking).
2. AG water well is essential for irrigation. The tank can be located on the southeast part of property. Swales can help with the water flow problems on the southeast end.
3. We will contact J&J to get the Ag Well serviced.
4. Roberta will purchase the tank(s). Amigos might be our best deal, but Roberta will continue to pursue the best possible deal.
September 21, 2019 Munko wrote:
Ag Well – I agree that we probably need to have the well people get some kind of pump down the well shaft and pump out water for at least 20 minutes before taking samples to test.  Ideally, the well people can perform several tests and give us a well profile including:
1. The well depth,
2. The depth or level of the "head"
3. The maximum GPM flow rate for the well,
4. The water temperature as it flows, and finally…
5. The water chemistry (we can get a standard drinking water profile for starters, but if the water is hot/warm, we might want to add some other minerals to the testing list)
October 4, 2019 (from Strategic Planning Meeting Minutes)
Agricultural Well:
Puck found the estimate that fixing the agricultural well could cost between $6,500 and $7,000. Doug has a pump that we can run to try and get a proper water sample.
October 16, 2019 Roberta wrote:
It would be wonderful to dial in the well situation so we can move forward with irrigation needs, filters/pumps/lines which is all part of good garden water.
October 18, 2019 Puck wrote:
Agricultural Well:  Doug ran a pump for 20 minutes, but the water coming out was still discolored. Attempts at running it for longer were delayed due to the power outage. Update or rescheduling needed.
January 10, 2020 (from Bod Meeting Minutes)
Ag Well Pumping – Doug pumped it again but the water was still brown. He needs to figure something out to have it run longer. He will try with a hard piece of PVC, let it run and see if we can get a better sample. We could also try Roberta's Honda gas pump, which could run up to 4 hours.
August 21, 2020 (Agricultural Well) Sky wrote:
I was able to connect with J&J Pumps this morning and got a lot of useful information.
-They do offer a few potentially beneficial services including pumping out the sediment in the bottom of the well.
-When I asked Scott about having the drawdown test and dredging done and what that would cost he said I was better off drilling a new well.
–J&J uses diamond core drilling to drill wells and they charge about $30-40 a foot for a new well. Ted is the owner and has been drilling in the area for over 30 years. They have lots of records of wells and average depths and GPM ratings in our area.
September 11, 2020 (From Bod Meeting Minutes):
Agricultural Well:
-Kelly is working on getting an estimate for the Ag Well solar pump. Our plan is to get a solar pump to pump to the tanks.
-Water testing is on hold until we can get a new sample, but taste tests proved non-lethal in small amounts.
-We will keep our eyes out from another submersible pump that can run for at least 24 hours, run pump really slow so we don't run out of water. We need to pull it up 65 feet up the well. The previous pump was too big of a pump to do what we needed. We need it to pump no more than 3 gallons per minute.
-If we go ahead and purchase a new pump, we can use that pump in the well. If we find the water to be not usable for the garden, we can repurpose the pump elsewhere on the property.
-Terri will ask Kelly about what pump we will need. Dredging or other ways of clearing out the well could help water flow too.
Water Tank installation:
–We have the tanks, but we still need to make the final determination for location. That location will need to have some trees cleared, and the laying of lines needs to be outlined and potentially ditch-witched (estimated at about $200/day). We want to come in from the BB Road side, on the south side of the garden.
~~~~~~~~~~~~~~~~~~~~~~~~~~~~~~~~~~~~~~~~~
Back to the Main Well (used for drinking & irrigation):
December 11th 2020 (From BoD Meeting notes)
*Water is going to be shut off at the well for the winter until it is needed for the Q-hut or the garden.
May 9, 2021 Munko wrote:
-The well pump is on a different meter, so the tenant will be using more electricity than is on the QH meter, but the lease says we provide water…
July 29, 2021 Roberta wrote:
-Sky just came from over at the Land Trust and all the water is out. I have included Sky on this thread as well. PG&E came down to do an emergency electrical inspection 45 min ago to see that their end was functioning and it seems to be. Sky checked the voltage of the outlets and they were good and all the breakers were intact so he believes the pump is out. Looks like the tanks are new, was the pump replaced too? As of now Q-Hut, gardens etc. have zero water so an emergency decision needs to be made. I would like to call J&J Pumps and have them come out ASAP.
Puck wrote: We had similar issues in the summer 0f 2019. It ended up being a fuse that had blown out. Once we got a new one, it worked fine. We did have J&J come up and inspect the equipment at that time, and everything else was in good working order. We thought we would have to replace the pump, but we didn't need to, so it was good news then.
July 30, 2021 Sky wrote: Well/Pump Update:
-J&J arrived and diagnosed pump, electrical and pressure systems. There are two overload switches that triggered and shut off the pump. He said most likely issue was power surge from PG&E, other possibility could be pump cycling too frequently.
-We turned on large overhead sprinkler and let a hose run full blast to watch cycle time and everything worked as it should.
-Continuity test was good and pump is operating within proper range.
–He suggested getting larger pressure tanks and that would eliminate any potential cycling issue and allow increased water usage.
-Fortunately it was a simple fix just pushing the hidden reset buttons. Unfortunately they didn't tell us about the switches over the phone.