As a 501(c)(3), The BBCLT is overseen and guided by a Board of Directors made up of several dedicated members of our community. These Directors act as representatives of Big Bend residents, and seek to find the best ways for the Land Trust to benefit the town, the land, and the people. If you are interested in joining the Board, please send us an email and let us know! Thanks to our current hard-working, creative, and caring members of the Board of Directors in 2021:
---
Terri Orwig – Treasurer
Terri Orwig has lived in the Big Bend community since 1979 and has been involved in community development projects during all those years. She and her husband bought 25 acres and built their dream homestead while raising their two children. Terri served on the local school's Site Council for many years, and has been a consistent and generous community activist in many areas. She started a Recycling Center at the local school, and operated it for 15 years, donating the proceeds to the school students & the Big Bend Volunteer Fire Department.
Terri also helped start Hill Country Community Health and Wellness Clinic, a primary care medical facility in a nearby town, serving as secretary of their board, then an original staff member when they opened their doors in 1985, first as a front office/medical assistant, then running the accounts receivables department, while pursuing her Licensed Vocational Nursing license. The Hill Country Community Clinic became a federally qualified health center 15 years ago and when she retired in 2014 after 28 years, the Leed Certified Gold facility had about 80 employees, offering general dentistry & counseling services as well as primary care. Terri and her husband also volunteered with the Teen Group at the clinic for 5 years. Her family financed and built both the library at Hill Country (in her mother's honor) and the 1/4 mile walking track on the grounds (in honor of her husband's mother). She says that Hill Country grew her as she helped it grow.
She also serves as secretary of the Acorn Board, a non-profit organization that operates an all volunteer community radio station KKRN, is involved in the Scratched Up Radio Theater at the station and helps with numerous fund-raising events for them including a monthly luncheon for the staff and patients at Hill Country.
Since retirement, Terri has been involved with the BBCLT on and off for 4 years, serving as Secretary of the Board from 2014 through 2015, then later as the BBCLT President, and now as a Board member and Treasurer. She is excited about the potential good that this organization will bring to our rural community and the enthusiasm that all are bringing to this worthwhile project. Her passions are gardening, hiking, reading, yoga and travel and most of all, her family!
Heather 'Puck' Adams – Secretary
Puck Adams has been involved in the BBCLT since 2016. The proud single mom of a fierce and intelligent daughter, she is devoted to helping improve the overall conditions in Big Bend. A community activist most of her life, Puck has helped with a large variety of organizations and projects, including but not limited to Food Not Bombs, Free Stores, community education projects, books for prisoners, and flash mobs of free cupcakes.

As history major in college (and a long-time activist), she is well aware of how absolutely vital it is for communities to work together to improve their conditions. Along with being the Secretary for the BBCLT, she is also the creator and the manager of the BBCLT Community Thrift Store and she plays a key role in administrating the Co-Op project. She is also President of the Big Bend Community Club and a proud member of the local ISS School Board. Puck wants to work hard, have fun, and build Big Bend to be the best town possible for her daughter to grow up in.
Doug Wakefield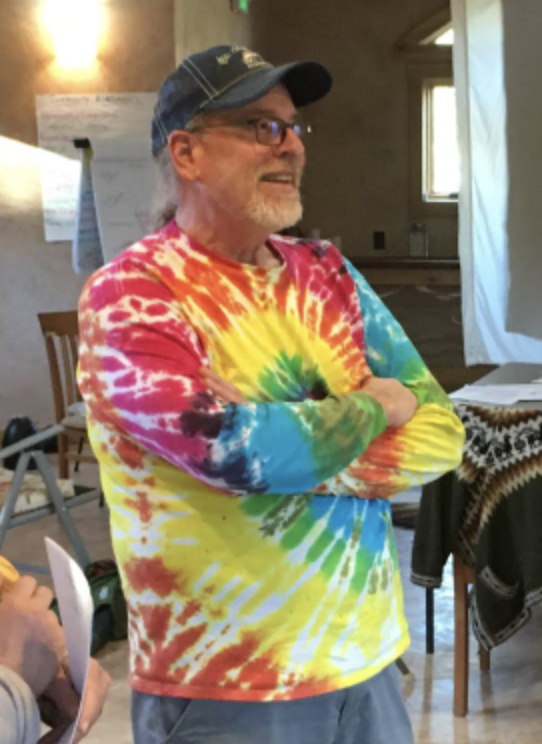 Doug is a very active and widely loved community member, who has lived in Big Bend for decades. He is a local landowner and lives in an off-grid home he is building directly adjacent to the BBCLT. He is also the owner and manager of the Pit Stop Store, one of the most important community institutions in town (and one of the only businesses in Big Bend). Doug has volunteered for a wide variety of local causes and has been formally and informally honored by the Community as an important model citizen of Big Bend. He has also served as a Director of several non-profits and community organizations, including the Hill Country Health and Wellness Center, the Big Bend Community Club, and the Indian Springs School Board.
Munko Seabrook Leaf
Munko joined the BBCLT Board of Directors in 2019. He has been involved in supporting the BBCLT since its inception, and was present and a supporter at the very first board meetings and "work parties" of the (now renamed) Madesi Valley CLT. Munko has lived in Big Bend since 2008, and is currently also dedicated to helping to create another 501(c)(3) in town, known as the Big Bend Hot Springs Project, where he serves as Team Coordinator in the development and re-opening efforts. He also serves as the main website editor for the BBCLT.

Before moving to Big Bend, Munko was on the management team of Frogwood Lodge Retreat Center, a rural retreat center in the Mendocino Coast Range that was focused on hosting and serving cabin renters and overnight groups engaged in healing-oriented and environmental conservation retreats. Munko was also a dedicated public school primary multiage elementary teacher for 14 years in the Corvallis, Oregon and San Francisco, California school districts. During that time, Munko was involved in team efforts to write and administer several large educational grants. He has also volunteered for other non-profits, including 20 years at the Oregon Country Fair. Munko believes in community-building and being of service to others and the Earth.
Roberta Romm – President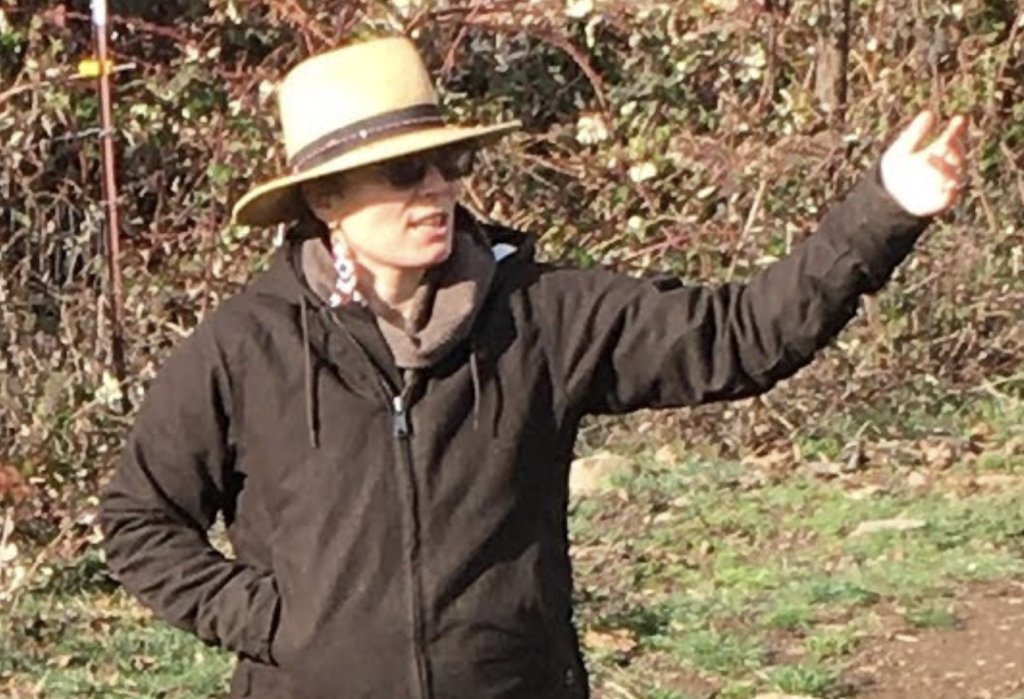 Roberta has deep experiences working with rural and community-focused non-profits and co-ops and she is a great organizer and a hard worker. Her leadership, remarkable organizational skills, and incredible positive energy have breathed new life into the activities and direction of the BBCLT, with its huge potential but limited participation. Roberta seems to do the work of several people at once, and she has many skills in working with all kinds of people, farming plant crops and livestock, and is a certified permaculture designer.
Roberta lives right across the street from the BBCLT, and her partner Sky is the BBCLT Farm Manager, so their expertise, dedication, and hard work really make things happen. Roberta has been on operations teams in leadership roles for large green-focused events, so she has much experience and many contacts that are very helpful to the evolving BBCLT's development.
Melisa Poole
Melisa joined the Board in 2020 and has been a part of the Big Bend Community for decades. She lives outside of Big Bend, and has many contacts and skills to help the BBCLT grow and evolve. Melisa is a gardener, potter, bee keeper, and parent, with plenty to offer the BBCLT, which she does with her generous ways and friendly positive demeanor.
Kory Kakuk (newest Board member)
Korey moved to Big Bend with her family as a young child, and has been an active and loved local community member for most of her life. Her father, the late great Jerry Kakuk, was one of the five original BBCLT Board members and helped found the organization in its earliest days. Korey lives next door to the BBCLT and has decades of valuable experience raising livestock and stewarding land. She also raised two daughters in Big Bend and works part-time at the Big Bend Hot Springs Project.
---
Generous Community Members Who Have Served on the BBCLT Board of Directors in the Past:
Joshua Chambers
Carissa Torres
Jerry Kakuk
Marina Phillips-Kisse
Elizabeth Beil
Beth Messick
Scott Fuller
Sarah Joy
Stephen Lyon
Natasha Hays
Sabrina Careno
Kelly Thiesen
Shalom Blessing
Scott Vermilya
David Green
Doug Wakefield
Puck Adams

(There Were Several more too.. Who else?)